You might not be able to eat a good amount of those tasteless avocado puddings. Moreover, it's quite difficult to come across desserts that are not only delicious but also healthy. This is why chefs across the world have tried making some healthy and delectable desserts for years.
In this process, they've managed to create some sweet recipes with ingredients such as yogurts, oats, and nut butters. Some have also made desserts using vegetables. Here, we've listed a few such desserts that are light, healthy, and delicious:
1. Chocolate-covered bananas
This is one of the healthiest options in desserts that would never fail to delight you. It is made using a coating of dark chocolate around a banana. Chocolate-covered bananas taste even better if they're kept in a freezer for a sufficient amount of time. You can make small portions of chocolate-covered bananas and keep them in the freezer. When you're craving for a bite, just take out one of those and savor the treat!
2. Peanut butter oatmeal bars
This dessert contains everything you'd want in your treat. It has a chewy texture, an inviting sweet peanut flavor, and a sprinkle of chocolate on the top. The peanut butter oatmeal bars can be compared to the quick-bite cookies. A major difference here is that the peanut butter oatmeal bars are easier to prepare.
They're also one of those healthy desserts you'd love to eat. The sweetness of this dessert and a tinge of saltiness makes it worth tasting.
3. Sauteed apples
You'll find sauteed apples a lot more healthy than most of the other desserts. Preparation of this dessert doesn't involve baking or some highly advanced skills. All you need to do is slice some apples and saute them in spices and butter. Once it is ready, you can enjoy this dessert with a vanilla ice cream topping. You can also use whipped cream in place of vanilla ice cream.
4. Healthy chocolate pudding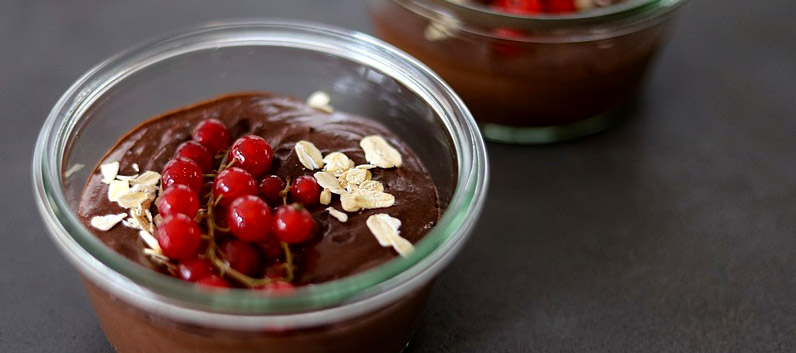 This is a perfect delicacy to have whenever you're craving for a chocolate-based dessert. It is made using dark cocoa powder, maple syrup, and Greek yogurt. This pudding gives you the probiotics and protein of yogurt and satisfies your craving for chocolate.
A healthy chocolate pudding usually tastes like a dark chocolate pudding and can be prepared in just two minutes. You can also make a Vegan Chocolate Pudding, if you want a plant-based chocolate dessert.
5. Chickpea Cookie Dough
This is not your usual cookie dough, as it uses less sugar and butter. It makes you feel like you're truly enjoying a treat, as it has a fabulous taste. For the health-conscious individuals craving for cookie dough, this would be an ideal dessert.
6. Chocolate Zucchini Cake
A chocolate zucchini cake is one of the inventive ways to enjoy a healthy food in the form of a dessert. This cake is made using zucchini, maple syrup, and almond butter as the main ingredients. A dairy-free and gluten-free cake, it is a gooey dessert with just the right amount of sweetness. Besides, it is quite rich and chocolaty.
7. Roasted peaches
This dessert uses the ripest peaches and is so delicious that you'll be raving about it for several days. You can prepare it by throwing some sweet, juicy, and ripe pears into the broiler and getting them caramelized and soft. You can then top them with some fresh mint and vanilla ice cream. Roasted peaches make for quick fruit desserts and are among the world's best treats.