Cookies can make your day. They bring people in a family together at the dining table with their inviting aroma. While baking cookies, you'll often be tempted to lick the spoon and would even fight over it. Cookies become a part of our lives right from the days of childhood. They're also great for gifting, as there's hardly anyone in the world who'd say 'no' to such mouth-watering treats.
When you visit your neighborhood bakery, you'll find them in a range of shapes, textures, and flavors. Some of them might be soft and chewy, while others might be light and crisp. Here, we'll take you through some of the popular cookies that you'd love to savor:
1. Chocolate Chip Cookies
The origin of these cookies date back to the early 20th century. Ruth Graves Wakefield is believed to have accidentally invented them. One day, she ran out of baker's chocolate. To make up for it, she used pieces of Nestle's sweet chocolate as a substitute.
Thus, the chocolate chip cookie was born. You can choose to make soft and doughy chocolate chip cookies or crisp and crunchy ones. It depends on the ingredients you use and how long you bake them.
2. Snickerdoodles
Snickerdoodles are among the favorite cookies of many during the holiday seasons. They can be soft or crisp with a surface that's a bit cracked. The origin of snickerdoodles is still unknown, but many know for certain that it's a drop cookie. Such cookies are made by dropping spoonfuls of dough directly on a baking sheet coated with sugar and cinnamon.
3. Shortbread Cookies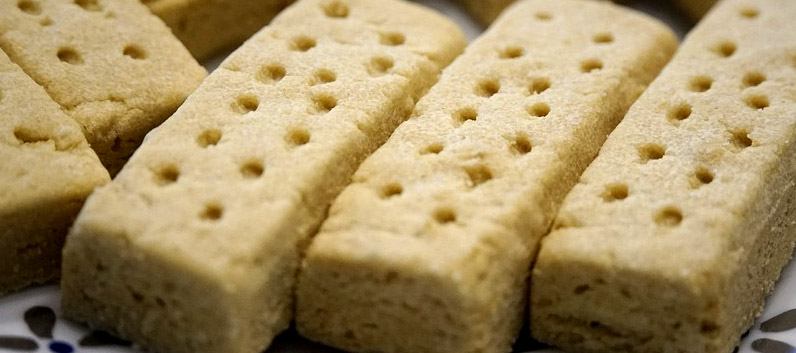 These cookies originated in Scotland during the medieval times. Shortbread cookies have lower quantities of sugar and flour. It gives them a more tender and crumbly texture and makes them different from the butter cookies. The name 'shortbread cookies' comes from the fact that they have a high ratio of butter to flour.
4. Oatmeal Raisin Cookies
Yet another type of drop cookie, an oatmeal raisin cookie is warm and comforting. These cookies would remind you of the days spent in your grandma's house. The dough used in preparing these cookies is based on oatmeal and consists of brown sugar and raisins.
5. Gingersnaps
These spicy treats are popular globally and are also called 'ginger biscuits' or 'ginger nuts'. Gingersnaps are sweet and spicy cookies that also use nutmeg and molasses in their preparation. These cookies are also a favorite during holidays.
6. Peanut Butter Cookies
Peanut butter cookies are prepared using hand-rolled dough and are flattened with a fork. This enables the bakers to achieve the waffle pattern while making these cookies. First introduced in the Pillsbury's Balanced Recipes' 1933 edition, this is now a popular technique.
It also helps in distinguishing these cookies for individuals who've got peanut allergies. Nevertheless, these cookies are highly recommended for those who love peanut butter.
7. Sugar Cookies
These cookies were first made in the mid-18th century by the Moravians in Pennsylvania, United States. They can be customized or cut into shapes easily and this is one of the reasons for their massive popularity during holidays. The basic ingredients used for creating sugar cookies are flour, sugar, eggs, butter, and vanilla.